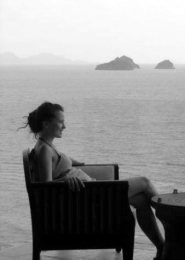 Born in Paris, and raised in Asia and in America, Aliénor is the heart and soul behind the Bare Gravity jewellery line.
From a young age, Aliénor was fascinated by the people she met during her travels, who were able to express their sense of beauty through creations of their own.
She progressively developed her own style, combining the strength of the concept and the lightness of the construction in all she produces.
Indeed, for her, beauty ultimately depends on two elements, the artist's integrity, and the perfect balance of the object created.
Hence, the name she chose for her jewellery line.
When she feels it necessary, she complements sterling silver (her main medium), with carefully chosen semi-precious stones, pearls and artifacts, individually sourced during her travels. These are used very sparsely, only for rhythm and ultimate balance.
Aliénor lives and works in East London.